To promote the conference to our local students, we organised and hosted a lunch and informal information session at UC. Students and some staff responded to the emails and door knocking (nothing like a bit of peer pressure) and followed the smell of pizzas to the gathering in the staff tea room. Jason Alexander (our Minister of Finance) kicked off the session with a presentation about the NZCSRSC, complete with pictures from the last conference.
Tim Bell, Brent Martin, and Tanja Mitrovic spoke about previous conferences that they had attended and the benefits for students. Tim was at the very first conference. Warwick Irwin also showed his "Top Five Presentation" award from a NZCSRSC he had attended as a student. Apparently that year, six people received the award! Go figure.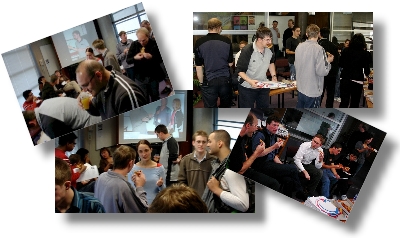 After the informal talks, students and staff mingled over pizza and drinks, talking about various aspects of the conference. It was great to see interest from students – including final-year undergraduate students considering postgraduate study options.
It is also good to see the effect that events like this have on the morale in the department.
Sascha, the Minister of Broadcasting, is wondering if there is a better bribe than pizza for students.
--------------------------

NZCSRSC Sponsor:
The NZCSRSC 2008 lunch and info session at the University of Canterbury was sponsored by
CSUnplugged
.
--------------------------